Twitter can be a bit difficult to grasp initially for new authors. There's a lot of pressure for authors to post as often as possible and engage with other authors and readers.
But as an author who's strapped for time, it can be challenging to spend a considerable portion of your time every single day on Twitter posting new tweets, replying to comments and commenting on other tweets.
So for all the busy authors out there, we have a list of seven simple tips that'll save you time and give you options to manage your book writing with your book promotions.
Promote Your Books on Twitter with These 7 Easy Tips
Twitter is a great resource for authors to gain new followers and then eventually convert them to readers. Staying relevant and active on Twitter is crucial for authors. But how can you make time for these promotions when you need to spend a lot of time working on your next book? Here are 7 tips to manage your book promotions on Twitter in the easiest way.
1. Crafting Your Bio
Your Twitter bio is the first thing that people see when they land on your profile. And many majorly 'judge' the person behind with the bio. So it actually means that a new person who comes to know about you will decide whether to follow you or not by looking at your bio.
So make sure to have a clear and direct bio that describes who you are. You can be smart, quirky and funny in your bio — this shows people your personality. But make sure not to overdo it. Don't make it too hard for people to understand. Have something clear and direct, funny (if you want) and descriptive about who you are as a person.
After crafting your Twitter bio, make sure to link your book in the default link option. This is the best way to direct those curious followers to find out more about your books. Preferably, link to your latest book or a page where all of our books are listed.
2. Creating a Pinned Tweet
Twitter gives the option for all users to pin a single tweet at the top of your profile. This is a really useful option to talk about your latest book and add a link to it. If you're linking to your author profile in the default link in the bio, then you can link to your latest book in the pinned tweet.
Some authors also use this pinned tweet to expand more about who they are, the genre of books they write and places where they blog.
You can use the pinned tweet for any of these options. But make sure to leverage this to lead to your book promotions as this is often the next thing that people look at after the bio.
3. Scheduling the Tweets
Now that you've a catchy bio and a converting pinned tweet, the next thing we need to know is how to be active on Twitter. If you want to stay on top of your followers' minds, then you need to tweet regularly and at least, once a day.
This means you need to log on to Twitter multiple times a day which is hard for many authors. So the best option is to create a bulk of the tweets and schedule them through our Book Tweet Scheduler App.
You can schedule your tweets in just three steps. Connect your Twitter account, set a daily limit, add your tweets and schedule them. This is how the app looks like.
You can try out the tool for free too.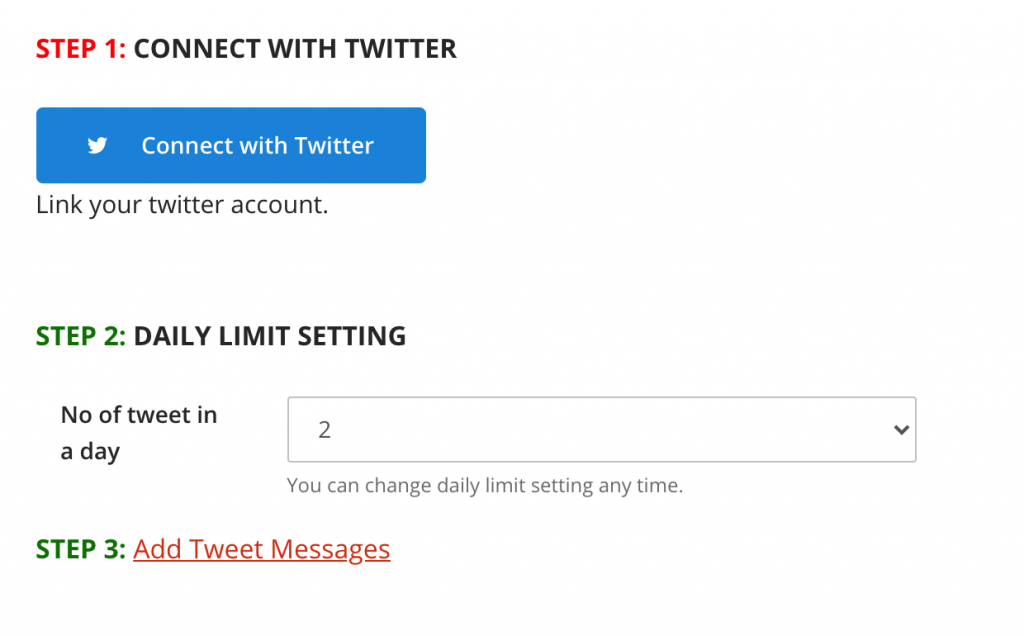 Once you've scheduled the tweets, it'll go out automatically in the scheduled time.
4. Planning for Multiple Time Zones
As an author, you may have readers from different parts of the world. So, when you're sending out the tweets, it'll be most visible to the ones that are active right then. And the chances of your tweets being visible for people logging on to Twitter a good 8 hours after is much lesser.
This is why many Twitter users retweet the same tweets one or two times a day 8 or 12 hours apart. Similarly, you can set a daily limit frequency and tweet the same content a few times a day so that it's visible to all of your followers from various time zones.
5. Creating Twitter Lists
Now that you know how you can tweet every single day without logging on to Twitter, you'll be wondering about engaging on other's tweets.
Yes, just tweeting out stuff isn't enough. You need to engage with your followers and fans often and the best way to do that is through Twitter Lists.
Create multiple Twitter lists of your fellow authors and fans who you wish to engage with regularly. Make sure to keep the number of people on the list to less than 100. If it exceeds the count, then make new lists. This is because the more people you have on the list, the less opportunity you'll have to engage with all of them.
So, once you've created the list, you can log on to Twitter only once a day, open a couple of lists, like and add comments for a few of the other tweets, reply to your own comments and log off. This will only around 15 minutes every day and it can make a good impact on your engagement.
6. Turning on Twitter Notifications
Let's say that you're so busy that you don't even have time to create a Twitter list.
There's still an option to engage with other tweets without even opening Twitter and it's Twitter notifications.
For this, you'll need to visit the individual profile and turn on the Twitter notification. You'll also need to install the Twitter app on your mobile and enable notifications.
So every time those people tweet out, you'll get a notification with an option to Like, Retweet or Reply right from your notification. You can do any of these actions through your mobile notification without even opening the app!
7. Participating in Twitter Chats
Many authors and writers host weekly Twitter chats for a specific time. The host of these chats post a bunch of questions and other authors will answer and engage with each other. This is a great way of meeting new authors and readers and helping each others out.
Even when you don't log on to Twitter on the other days, you can spend 30 minutes every week engaging with other authors through these Twitter chats.
Twitter is a great platform for book promotions and with just a few tools and smart tips, you can stay active without spending a lot of time online!
Have any other new Twitter tips for us? Comment below.